The technology and science behind organic lawn care is constantly advancing. We attend conferences throughout the year to stay updated on the newest developments and industry best practices.
How great is the look and feel of a freshly mowed, green, lush lawn? How comforting is it to know that your children can safely run around on it in their bare feet, as well as your pets? With a little analysis and planning, a "golf course" lawn is absolutely achievable ... without the use of harmful pesticides and synthetic fertilizers.
The first step in the process is to test the soil. Healthy soil, especially the top layer, is filled with organic matter containing living organisms, fungi, and bacteria, water, air, minerals and rock particles. We pull multiple core samples and test right on the spot. Most neglected lawns require a pH adjustment, and when the soil has stabilized, the correct amounts and timing of organic fertilizer can be implemented.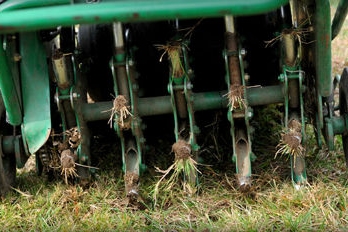 Not always needed, but when necessary, aeration is the next step to a healthy lawn. This is usually done spring or early fall, and loosens the soil for improved root development by allowing more air and water into the top layer of soil. Seeding or overseeding follows aeration, for which we have our own custom blended, drought resistant seed cultivar. Organic matter in the soil is critical for a healthy lawn, providing roughly half of a plant's nitrogen during the growing season, and turning fertilizer into nutrients. The richer the organic matter, the less need there is for fertilizer. If organic matter is a bit low, any new seeding should be covered with leaf compost to provide cover and moisture, while naturally decomposing into additional organic matter.
Water ... but not too much!
Germination isn't possible without the final critical component — water. For new lawns, watering twice a day for 15 minutes until the seed germinates, and for a week after germination, will ensure a strong start. Follow up twice a week until winter with more prolonged waterings to keep the soil moist. For established lawns, people often make the mistake of watering too often, literally drowning their grass — just the same as over-watering can kill plant. With the proper organic seed cultivar, roots will run deep, resist drought and obviate the need for constant watering.
Lastly, hunker down someplace warm for the winter, and prepare to be pleasantly surprised in the spring!
Plant health assessments & care
Soil assessments & tests
pH assessments & adjustments
Core samples
Soil conductivity
Disease resistance
Predator resistance